Embracing each person…
In the past few months our church, our community and our world have been disrupted and changed in a way that no one could have imagined at the start of 2020. We have been separated from our families, co-workers, neighbors, friends and church family. We long for things we once took for granted – a hug, a cup of coffee with a friend and Sunday at church.
In an effort to continue forward in living the mission as a church and to embrace each person with the life changing grace and truth of Jesus, we have prayerfully put together a FOUR PHASE REOPEN PLAN.
Every effort is being made to ensure that each phase is in alignment with the guidance of our state recommendations and in balance with the heartbeat of our church family. We encourage you to make the best choice for your family and situation as you consider attending on-site services or continue to worship with us at NewLife Online.
We are excited to be moving into Phase 2 on May 31!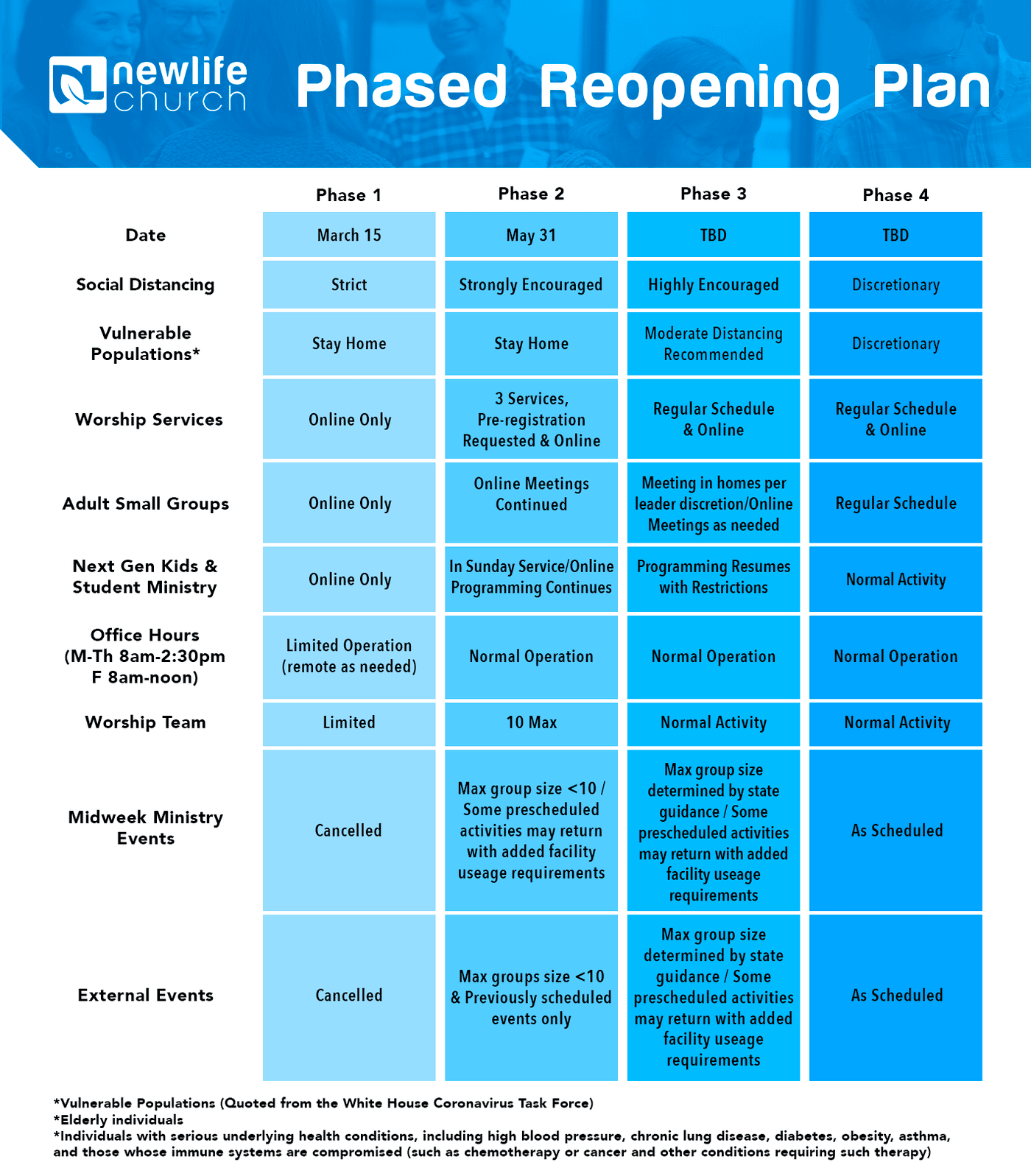 Will regular activities look different?
While we expect our in-person gatherings to feel the same when we reach Phase 4, like the rest of society, we expect that the way we interact with each other will look at little different for a while. We're going to continue to modify the parts of our services that required physical contact before (such as passing offering trays and greeting each other with handshakes), and we're doing everything we can to keep our facilities clean and safe.
Even if you see more face masks (and a lot more hand sanitizer), when we gather together in person, we hope it will feel like coming home.
Why are you asking me to pre-register?
Our church building is opening with significantly reduced capacities to allow for adequate distancing as requested by state guidelines. To be sure we are doing our best to provide a safe environment we are asking you to help us by preregistering for your weekly service time. At this time, Next Gen programming will not be available, but your entire family is welcome to attend church with you. We will provide activity packs and are planning to include some fun and engaging highlights in our services for kids.
What about midweek and seasonal group events?
In the near term, some of our events will gather as an online-only events, and some may begin to meet in-person (but it will look a little different for awhile). Our ability to reopen for groups (mass gatherings) is determined by the guidance of the governor and the IDPH. Prescheduled groups and events already on the NewLife facility calendar will be contacted by Erin to discuss new guidelines and timelines for using the facility in the coming phases. While many of us are ready to jump into the 'new normal', this part of the process may move a little slower than some of us like. We thank you in advance for being patient and flexible.
NewLife Online
We encourage you to continue to attend NewLife Online if you or a family member doesn't feel well, or if you're just not ready to attend church onsite. Don't worry, we have online resources for Students (FB group) and Kids (kids web page) too.
You're part of the NewLife family no matter where you choose to attend! NewLife Online is also a great option if you want to invite a friend to join you!